Extracorporeal Shockwave Therapy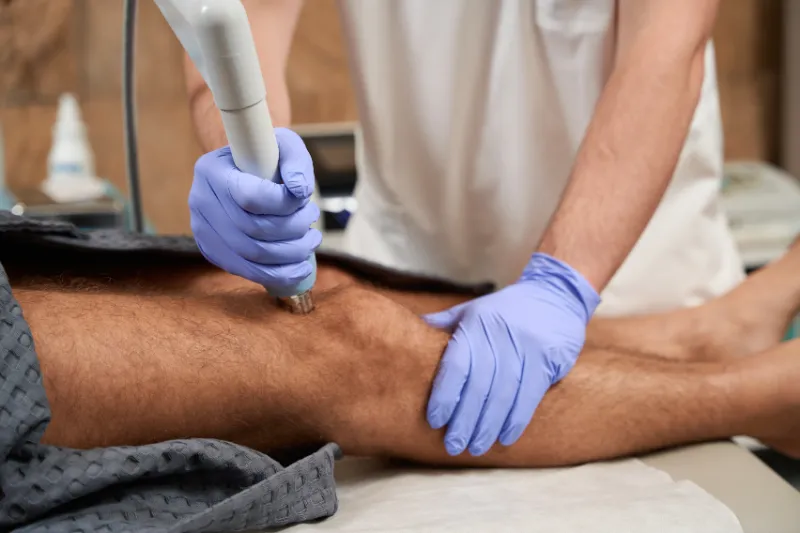 The Arches physio is delighted to now be able to offer Extracorporeal Shockwave Therapy (ESWT).
Shockwave has been shown to improve clinical outcomes in many upper and lower limb chronic tendon disorders providing rapid pain relief and a window of opportunity to return to functional activities through reigniting the body's own healing response. Specifically, NICE (National Institute for Health and Care Excellence) have produced guidelines for the use of shockwave in the treatment of Achilles tendinopathy, plantar fasciopathy and calcific tendinopathy.
ESWT is an evidence based treatment for tendon pain as well as other musculoskeletal problems around the body. Extracorporeal means that the low -energy acoustic waves from the applicator of the machine are delivered, via a gel, to the outside of the body.
The main benefits of shockwave is pain relief, restoration of the function of tendon tissue. Shockwave therapy has been shown to be an effective treatment for a range of common tendon complaints including plantar fasciitis (fasciopathy), Achilles tendinopathy and tennis elbow. It is a valuable tool which we can now integrate into other physiotherapy approaches such as soft tissue techniques and exercise based rehabilitation.
A large body of research evidence including multiple, randomised, double-blinded clinical trials is now increasingly showing shockwave therapy to be an extremely effective treatment intervention. Indeed, shockwave therapy for tendon pathology is supported by the National Institute for Health and Care Excellence (NICE) who produce stringent evidence based guidance.
The treatment can be administered in a matter of minutes by your therapist and is generally advised once per week over 4-6 weeks depending on the response to the intervention. There may be a mild, short term discomfort at the outset of the treatment and just after application but that is to be expected with the shockwave therapy.
Shockwave is not advisable if you are taking medications to thin your blood, have recently had a steroidal injection (within the last 6 weeks) local to the injured area, near cancerous tissues or in proximity to the major organs of the body.
Shockwave Therapy is an extremely useful intervention for the following conditions (amongst others):
Plantar fasciitis (fasciopathy)
Lateral epicondylitis (tennis elbow)
Medial epicondylitis (golfer's elbow)
Tendinopathy around the shoulder
Patella Tendinopathy
Achilles tendinopathy
Gluteal tendinopathy / Trochanteric bursitis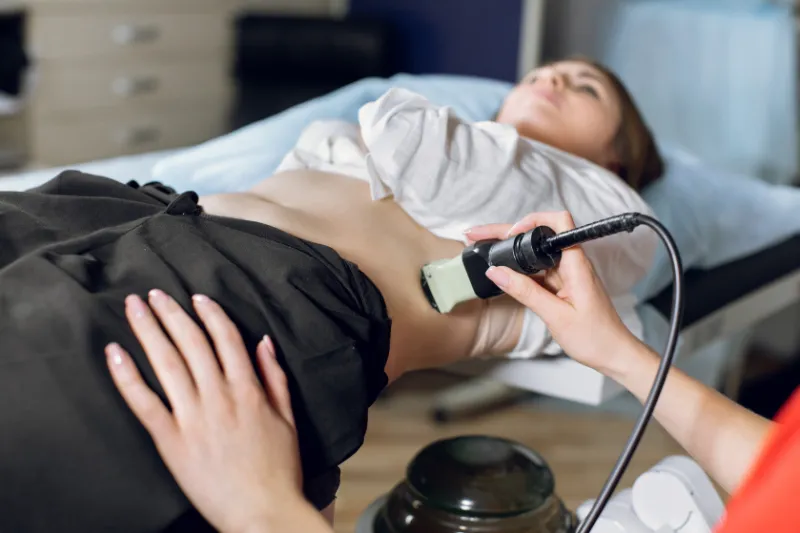 Team of experts with exceptional customer service
"The clinic was recommended via the Lymington Facebook page. I emailed over the Easter weekend, as my back had flared up, and was called back at about 8.31 on the first weekday. I was booked in to see Miranda Mason, who was excellent and pretty much fixed it. I also had a sports massage with Steve Watkins, also excellent."
"Treating my elbow with gentle massage, ultra sound and recommending a wrist brace. Demonstrating (and drawing out) recommended exercises, discussing lifestyle routines and suggesting new ones to help alleviate the permanent pain in my neck and referral pains. She has been such a positive force that, after years of struggling with neck pain, I now believe I can manage and improve it, rather than being defined by it. "
"The appointment never felt rushed but also felt efficient and targeted to my exact needs. I highly recommend this physiotherapy practice to anyone, old and young alike, also including patients with sports injuries because there are therapists on the team with many years of professional sports injury physiotherapy experience."
"I recently consulted physiotherapist Anna Harris following a total hip replacement after a fall. She was extremely professional and encouraging. As a result of her invaluable advice and exercise regime I am well on my way to full mobility. I would not hesitate to visit The Arches practice again."